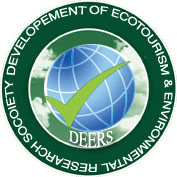 "Think Globally, Act Locally."


Environmentally responsible accommodation unit that promotes cultural and ecological awareness, contributes to conservation of neighboring lands, benefits local communities and provides interpretation to both local populations and guests.


DEERS is dedicated to developing & promoting ecotourism and conservation for the benefit of people at all levels of Orissa. We seek to combine the strengths of rural communities with the experiences of national and international groups who are leaders in the field of ecotourism.

Objective
To promote sustainable use of natural & cultural values of Natural and Cultural Heritage sites of Orissa

To Help in conservation and monitoring Nature and Cultural Heritage Sites of Orissa.

Build up local capacity in conservation & Eco Tourism.

Promote Eco Tourism & other sustainable development program of Orissa.
Activities
Raise awareness within various stakeholders on the important of Natural and Cultural Heritage sites of Orissa.

Produce interpretation materials promoting cultural and natural values of the sites (including posters & booklets).

Hold workshops and seminars for the promotion of the sites and their important values.

Hold workshops & training session build up capacity of Governmental & NGO's on Eco Tourism.

Train & build up capacity of local NGO's & GO's on management & conservation of the sites.